August 24, 2022
Pittsburgh Post Gazette
Citizens Bank Relocating Downtown Headquarters to Four Gateway Center
Citizens Bank is moving its longtime regional headquarters to Four Gateway Center, representing another big shake-up in the Downtown office market. The move is another win for the Hertz Investment Group, owner of the four-building complex near Point State Park. ( more )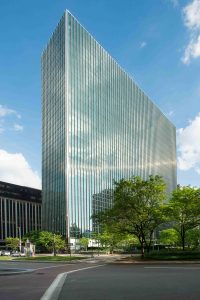 ---
August 2, 2022
American Press
Towering Project: $150 Million+ Rebuild Has Begun on Downtown Landmark
In August 2020, Hurricane Laura turned the structure at 1 Lakeshore Drive into a patched-up eyesore. Work has begun on the iconic Lake Charles structure, but no information is available at this time about how long the project could take or a tenant likely to lend its name. ( more )
---
July 19, 2022
KPLC TV
Work on Capital One Tower set to start in August
The Hertz Investment Group, owner of the Capital One Tower, released an update Tuesday, announcing that work on the vacant building is scheduled to begin next month. ( more )
---
July 15, 2022
Mile High CRE
Movers and Shakers
CIO Evan Djikas is profiled. See his bio
---
July 11, 2022
Biz Journals
Pittsburgh Office Market Shows Signs of Positive Absorption and Increased Vacancy
Two different reports demonstrate the ongoing challenges Pittsburgh's office market continues to face in the wake of the pandemic, as well as some modest signs of improvement. ( more )
---
June 30, 2022
Parking Mobility Magazine
Re-Imagining Single Use Assets: Bringing New Life into Parking Structures
Parking has served as a primary component of historically auto-centric mobility patterns in the U.S. for more than a century. Well-cited research from the University of California at Berkeley's Department of Civil and Environmental Engineering suggests that there are about 3.4 parking spaces in America for each car. Noted transportation scholar Donald Shoup observes in his 2018 title, Parking in the City, that "the area of parking per car in the United States is thus larger than the area of housing per human." ( more )
---
June 21, 2022
Biz Journals
Hertz considering residential conversion for Three Gateway Center
Longtime owner of nearly 1.6-million-square-foot office complex downtown is seeking a joint venture partner and considering a residential conversion of Three Gateway Center vacated last year by Dollar Bank. ( more )
---
June 7, 2022
WBAL TV
Building owners hoping to create a literal 'BUZZ' around Baltimore
The owners of a Baltimore building are creating some local buzz by trying something new with their rooftop. It may look like an average downtown building at St. Paul and East Fayette streets, but something buzzworthy is happening on top. WBAL-TV 11 News visited an apiary 20 floors up from downtown atop the Wells Fargo Tower. ( more )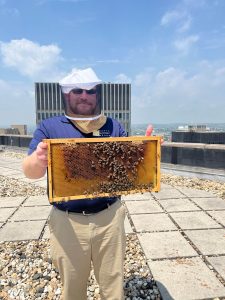 ---
June 6, 2022
RE Journals
Hertz Investment Group tabs JLL to lease, rebrand 635,765 SF Office in Downtown Cincinnati
Hertz Investment Group has chosen JLL to lease and rebrand the Center at 600 Vine, a 625,765-square-foot, Class-A office building at 600 Vine St. in downtown Cincinnati. ( more )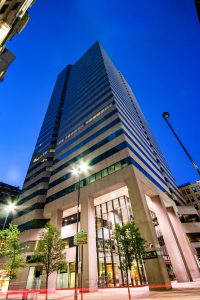 ---
April 18, 2022
Law.com
'More Magnet Than Mandate': Dickie McCamey to Trim Footprint by 20% in Pittsburgh Move
Dickie, McCamey & Chilcote signed a 15-year lease to move into Four Gateway Center in its headquarters city of Pittsburgh by April 2025, closing out nearly four decades of occupancy at Two PPG Place. ( more )
---
April 15, 2022
RE Business Online
Law Firm Signs 79,719 SF Office Lease at Four Gateway Center in Pittsburgh
Law firm Dickie, McCamey & Chilcote PC has signed a 79,719-square-foot office lease at Four Gateway Center, a 1.5 million-square-foot office building in downtown Pittsburgh. The firm will relocate from its longtime space at PPG Place to occupy five floors at Four Gateway Center, which features a newly built conference facility and fitness center, in spring 2025. Dan Adamski, Nick Francic and Reid Mauro of JLL represented the tenant in its site selection and lease negotiations. The representative of the landlord, Hertz Investment Group, was not disclosed. ( more )
---
April 9, 2022
Cleveland.com
Fifth Third Center office building in downtown Cleveland put up for sale
CLEVELAND, Ohio — The Fifth Third Center, Cleveland's sixth-tallest building, is up for sale, less than a decade after it last changed hands. ( more )
---
Feb 1, 2022
Biz Journals
Babst Calland Recommits to Gateway Center HQ Amid a Rush of New Leases at Downtown Complex
One of Pittsburgh's biggest law firms opts to stay at Gateway and maintain the size of its office amid a profusion of upgrades at downtown office complex… ( more )
---
December 20, 2021
Connect CRE Texas
Leasing Volume Signals Strong Desire to Return to Office Environment
Hertz Investment Group recently inked approximately 90,000 square feet of new leasing activity for 2021 and is in lease negotiations with another 11,000-square-foot new tenant in Brookhollow Central towers I and II, a class-A office complex located in the business hub of Houston. These transactions signal increasing optimism for Houston's office market, which has been hard hit by the pandemic and upturn in oil prices. ( more )
---
November 18, 2021
Houston Chronicle
Real Estate Transactions: Christus Health Inks office lease in NW Houston
Christus Health, a nonprofit operator of health care facilities, signed a lease to occupy 21,263 square feet at the Brookhollow Central office campus in northwest Houston. ( more )
---
November 15, 2021
Connect CRE Texas
Hertz Investment Groups Moves Into Multifamily
Hertz Investment Group recently announced plans to move into the multifamily housing sector. The first value-add project underway, a three-property 422-unit complex in Austin, recently completed the exterior renovation portion. ( more )
---
December 20, 2021
Property Funds World
Hertz Investment Group moves into multifamily market
Hertz Investment Group, a real estate investment firm known for the acquisition and management of more than 16.5 million square feet of Class-A office space across 21 US cities, is moving into the multifamily housing sector. ( more )
---
November 18, 2021
Houston Chronicle
Real Estate Transactions: Christus Health Inks office lease in NW Houston
Christus Health, a nonprofit operator of health care facilities, signed a lease to occupy 21,263 square feet at the Brookhollow Central office campus in northwest Houston. John Amini with CBRE's Office Occupier team represented the tenant. Brian Strait of Lincoln Property Co. represented the landlord, Hertz Investment Group. Christus will relocate its Houston administrative office from its long-time home at 2707 N. Loop Freeway to Brookhollow Central II at 2900 North Loop West in the second quarter of 2022. ( more )
---
November 10, 2021
Multifamily Executive
Hertz Investment Groups Makes Move Into Multifamily
Hertz Investment Group, a real estate investment firm known for its acquisition and management of Class A office space, has entered the multifamily sector. The firm's first value-add project includes three multifamily communities in Austin, Texas—the 132-unit Ascent at Quail Creek, the 130-unit Ascent at Walnut Creek, and the 160-unit Ascent at North Burnet. ( more )
---
November 09, 2021
Pittsburgh Business Times
People on the Move
We are pleased to welcome Tim McCarthy to the Hertz Investment Group. A 10-year industry veteran, he joins as Vice President, Asset Management in the firm's Pittsburgh office. ( more )
---
October 27, 2021
Property Funds World
Hertz Investment Group Leases 450,000 SF of Class-A Office Space in New Orleans
Despite several Covid-19 delays and Hurricane Ida, Hertz has successfully executed several new leases, renewals and expansions, as well as mitigated and repaired damage cause to properties as a result of the hurricane. ( more )
---
September 02, 2021
Tech Target
With New Orleans Mostly Dark, a Co-Working Office Lights Up
Co-working offices may appeal to remote workers who don't want to work at home full time and live too far from their corporate offices. But there's another reason co-working spaces may be helpful, as New Orleans illustrates. ( more )
---
July 14, 2021
DowntownNOLA.com
Discover Downtown: Hertz Investment Group
After more than a year of remote working, Greater New Orleanians are returning to their Downtown offices. Many will return to offices owned by Hertz Investment Group, the largest owner of Class A office space in New Orleans. ( more )
---
December 21, 2018
Norfolk
Hertz Investment Group Buys the Dominion Tower in Norfolk
 Hertz Investment Group Buys the Dominion Tower in Norfolk
---
February 22, 2018
Hertz Investment Group buys Brookhollow Central office complex

Hertz Investment Group buys Brookhollow Central office complex
---
September 7, 2017
Jackson MS. RBO news release
Baptist Memorial Health Care to open regional business office in downtown Jackson.
---
September 2, 2016
CoStar Group
Equity Commonwealth Trades Midwest Office Portfolio to Hertz Investment Group for $417 Million.
Equity Commonwealth CoStar Group
---
September 2, 2016
Cleveland.com
North Point office complex in downtown Cleveland sold for $95 million, records show.
That figure popped up in documents filed Thursday, four days after California-based Hertz announced that it had bought a cluster of Midwest office properties in the company's largest acquisition to date. The combined deals, in Cleveland, Milwaukee and Indianapolis, carried a price tag of $416.9 million. ( more )
---
September 2, 2016
BizTimes.com
100 East sale price: $78 million.
Exceeds assessed value, but lower than last time it was sold. ( more )
---
August 29, 2016
Rebusiness Online
Hertz Investment Group Buys Midwest Office Portfolio for $416.9M
Hertz Investment Group has purchased four office buildings in the Midwest for $416.9 million. Equity Commonwealth sold the 3.1 million-square-foot portfolio. The transaction includes 111 Monument Circle and 101-115 West Washington Street in Indianapolis, North Point Office Complex in Cleveland, and 100 East Wisconsin in Milwaukee. The portfolio was 86.5 percent leased at closing. ( more )
---
August 29, 2016
Milwaukee Journal Sentinel
Office tower at 100 E. Wisconsin sold
Hertz Investment Group, a privately held company based in Santa Monica, Calif., said Monday it has bought the 35-story office building at 100 E. Wisconsin in downtown Milwaukee.… ( more )
---
August 29, 2016
Indianapolis Business Journal
Two downtown office towers change hands in $417M acquisition
Two of the largest office buildings in downtown Indianapolis have been sold as part of a $416.9 million, four-building acquisition by Hertz Investment Group, the company announced Monday morning. The Salesforce Tower and Circle Building contain 1.2 million square feet of space. Salesforce Tower & Circle Building (formerly known as Chase Tower and Bank One Tower) and the PNC Center were part of a 3.1-million-square-foot package, Santa Monica, California-based Hertz said.… ( more )
---
August 29, 2016
Crain's Cleveland Business
Chicago REIT sells North Point as part of $417 million deal to Hertz Investment Group
North Point, the office complex at 901 Lakeside Ave., is now one of Hertz Investment Group's three skyscrapers in downtown Cleveland. The prior owner, Chicago-based Equity Commonwealth (NYSE: EQC), announced Monday, Aug. 29, that it has sold the property and three other office buildings in the Midwest for a total of $421.9 million.… ( more )
---
August 29, 2016
Milwaukee Business Journal
100 East office tower sold to California investor Hertz
The 100 East office tower in downtown Milwaukee sold in a $416.9 million portfolio sale to Hertz Investment Group of California.… ( more )
---
August 21, 2016
Crain's Cleveland Business
Hertz may add North Point to its portfolio
Hertz Investment Group of Santa Monica, California is taking steps signaling it wants to make the North Point office complex, 901 Lakeside Ave., its third skyscraper in downtown Cleveland… ( more )
---
December 21, 2015
Richmond Times-Dispatch
Riverfront Plaza buildings sold for $147.5 million
The twin towers of Riverfront Plaza overlooking the James River in downtown Richmond have a new owner… ( more )
---
December 23, 2015
Virginia News
Hertz buys Rivefront Plaza office towers in downtown Richmond for 147.5 million
Hertz is the new owner of Riverfront Plaza. The two-tower, 22-story, Class A office complex is located downtown next to the James River… ( more )
---
October 1, 2015
Mississippi Business Journal
Hertz continues shopping spree with purchase of Jackson's City Centre
Hertz Investment Group, downtown Jackson's dominant landlord, has added to its Central Business District holdings with a $6.2 million acquisition of the two-tower City Centre and its parking garage at 200 Lamar St.… ( more )
---
September 18,2015
Cleveland.com
Forest City sells Skylight Office Tower at Tower City for $35.4 million
The new owner is an affiliate of Hertz Investment Group, a California-based buyer that entered the Cleveland market earlier this year by purchasing Fifth Third Center on Superior Avenue.… ( more )
---
June 11, 2015
Mississippi Business Journal
Hertz Group makes largest acquisition in firm's history
Hertz Investment Group, which has become the dominant landlord in Jackson's Central Business District, has completed a $417 million acquisition… ( more )
---
June 8, 2015
TheState.com
Meridian Building sold to California company
Hertz Investment Group has purchased six office towers in four Southern cities, including the Meridian Building in downtown Columbia, in a $417 million acquisition.… ( more )
---
June 8, 2015
Press Release
Hertz Investment Group Announces Largest Acquisition in Company History with Southeast Portfolio Purchase
Hertz Investment Group (HIG) today announced it has acquired from Equity Commonwealth a portfolio of six Class A office buildings in the Southeast totaling more than 3-million square feet.… ( more )
---
March 11, 2015
Press Release
Hertz Investment Group Announces Purchase of Chestnut Place in Worcester, Massachusetts
Hertz Investment Group (HIG) today announced it has completed the acquisition of Chestnut Place, a 218,625 squarefoot office building… ( more )
---
April 8, 2015
Press Release
Hertz Investment Group Announces Purchase of Fifth Third Center in Downtown Cleveland
Hertz Investment Group (HIG) today announced it has completed the acquisition of Fifth Third Center, a 508,397-square-foot Class A office building… ( more )
---
December 19, 2014
Press Release
Hertz Investment Group Announces Purchase of South Pointe Business Park in Clinton, Mississippi
Hertz Investment Group (HIG) today announced it has completed the acquisition of South Pointe Business Park in Clinton, Mississippi, a 395,920 sq. ft. Class A property… ( more )